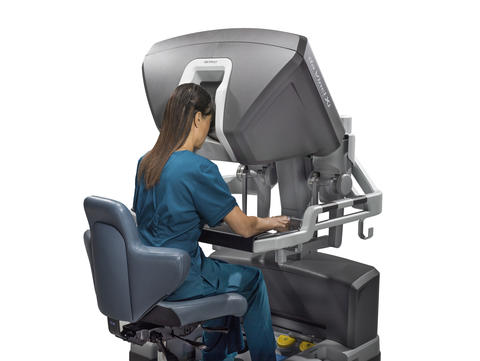 Salt Lake Regional staff, physicians and the greater community are invited to an Open House at Salt Lake Regional Medical Center on Thursday, May 17, from 9:00 a.m. to 6:00 p.m., in the main entrance lobby. Physicians will introduce the new da Vinci Xi Surgical System from Intuitive Surgical, Inc., the global leader in robotic-assisted minimally invasive surgery.
"Surgeons have used da Vinci technology in our hospital for several years," says Dale Johns, CEO of Salt Lake Regional Medical Center. "We are now excited to educate our staff, physicians, and the greater community about the new da Vinci Xi system, which we have recently introduced in our operating rooms."
The da Vinci Xi system builds upon Intuitive Surgical's robust robotic-assisted surgical technologies. With the da Vinci robot, which features multiple arms, surgeons are capable of performing maneuvers and rotations beyond the natural ability of the human hand. These arms are under the complete control of the surgeon who sits just a few feet away in the operating room. Throughout the surgery, a high-definition camera relays a live video feed of the operative area back to the physician in 3-D.
da Vinci technology is currently being used at Salt Lake Regional Medical Center for many purposes, including:
General Surgery (including hernia repair and bariatric surgery)

Hernia repair

Hysterectomy (removal of the uterus)

Myomectomy (removal of uterine fibroids)

Prostatectomy (removal of the prostate)

Thyroidectomy (removal of the thyroid)

Bariatric/weight loss surgery
"We are excited about the new technologies built into the da Vinci Xi system." says Dr. Dinhkim Le, surgeon at Salt Lake Regional Medical Center, "For one, the da Vinci Xi robot has a new overhead architecture which will allow multi-quadrant surgery without having to reposition the system. This feature is especially helpful for surgeons who perform complex procedures."
Hernia repair surgery is one field that has seen notably favorable outcomes among patients who opt for a procedure using da Vinci technology. According to Intuitive Surgical:
"In a market research study, most people reported less disruption to daily activities after robotic-assisted hernia surgery compared to open and laparoscopic hernia surgery."
"Early studies suggest that people who receive robotic-assisted hernia repair may get home from the hospital sooner than those who had open or laparoscopic hernia surgery."
Join Us Thursday, May 17 from 9:00 a.m. to 6:00 p.m.
To learn more, visit Salt Lake Regional Medical Center's main entrance lobby on May 17 for the da Vinci Xi Surgical System Open House.
Salt Lake Regional Medical Center is a designated Center of Excellence in Robotic Surgery (COERS) endorsed by the Clinical Robotic Surgery Association (CRSSA). The program is designed to recognize facilities around the globe that are achieving excellence in patient safety and quality of care. Salt Lake Regional is the first facility in the state to bear this accreditation.
Contact
Tammy Clark, Director of Business Development
Salt Lake Regional Medical Center
(801) 350-4214