Operation Walk: 5 Patients Receive Free Joint Replacement Surgery at Salt Lake Regional Medical Center
Robert Haverstock, a retired sales manager in Salt Lake City, has a story that's all too familiar to millions of uninsured Americans. But thanks to Operation Walk Utah, Haverstock's story has a happy ending.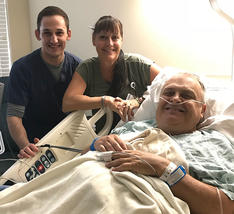 Suffering from hip pain for eight years, Haverstock woke up one morning and found he could not bend over. In March 2018, he attempted to schedule surgery, but was denied insurance coverage for the procedure. His condition deteriorated throughout the year, and he began relying on a cane. Some days the pain was so bad he couldn't get out of bed.
That's when he found out about Operation Walk Utah, a private not-for-profit volunteer medical services organization founded by Dr. Aaron Hofmann. Every year, Dr. Hofmann and his team lead a trip to El Salvador, where more than 280 free surgical treatments have been performed to date. Dr. Hofmann and other surgeons with the organization also offer no-cost joint replacement procedures here at home in Salt Lake City.
"I am amazed that Operation Walk came into my life when I needed this help," says Haverstock, who is one of five patients who received free joint replacement surgery this month at Salt Lake Regional Medical Center. "Just being able to walk up the steps again means so much."
Daniel Suarez, who received a right knee replacement through the program, says, "It's been an amazing journey for me. I have wanted surgery on my knees for so long but did not have the insurance to cover the procedure. I am beyond thankful. With this new knee I am excited to get back to the activities I have been missing."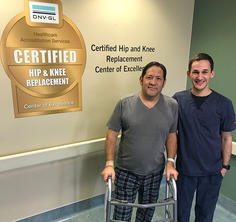 Like Suarez, who works as a sub-contractor, Robert Abeyta has suffered from joint wear-and-tear in his profession. A professional audio engineer, Abeyta has spent decades hauling equipment. "My x-rays told the story," says Abeyta. "No meniscus left and my knee was not straight." Now, after the surgery, he adds, "Operation Walk gave me my life back on so many levels. A new level of happiness has come over me. The chronic pain was such a major life distraction for the past five years."
Physicians at the Hofmann Arthritis Institute, Steward Medical Group, and Salt Lake Regional Medical Center participate in Operation Walk's Utah chapter, locally and internationally.
Additionally, physicians and staff travel to El Salvador to perform over 60 joint replacement surgeries per year. Salt Lake Regional Medical Center employees contribute, in part, to this mission by participating in a volunteer Angel Tree donation campaign every December. Donations of medical supplies and everyday items, such as hygiene kits, toys and clothing, are shipped to El Salvador and distributed by physicians and staff under the leadership of Dr. Hofmann.