Salt Lake Regional Orthopedic Surgeon Named "Humanitarian of the Year"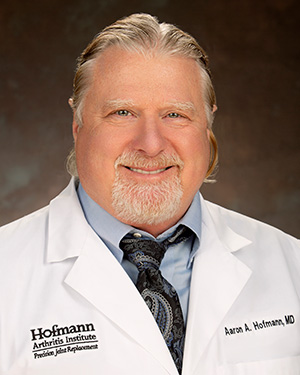 Steward and Salt Lake Regional Orthopedic Surgeon Named "Humanitarian of the Year" American Association of Hip and Knee Surgeons to Honor Aaron Hofmann, MD, founder of Operation Walk Utah
(SALT LAKE CITY)– November 9, 2019 – About 15 years ago, Dr. Aaron Hofmann, an orthopedic surgeon at Salt Lake Regional Medical Center, a member of Steward Health Care, founded Operation Walk Utah, providing hundreds of operations to disadvantaged individuals in El Salvador who need hip and knee surgery to restore their mobility. He will be honored Friday by the American Association of Hip and Knee Surgeons (AAHKS) with their "Humanitarian of the Year" award at a ceremony in Dallas, Texas.
"The award recognizes an AAHKS member who has made exceptional humanitarian contributions and also recognizes the many individuals who contributed to these efforts without which the successful programs would be impossible," states his recognition letter from the organization.
More than 3,000 miles away from Salt Lake City, on the outskirts of San Salvador, El Salvador, hundreds of patients are a testament to the difference Operation Walk Utah has made. They enter the hospital broken and bent, many on crutches or in wheelchairs. Some arrive on horseback, traveling for days to get to the hospital for surgery, or make a slow, painful journey on foot. Others are found on the street and brought in for care. Dr. Hofmann and the supporting medical team who make up Operation Walk Utah make two trips annually, treating more than 100 patients each year.
"This is just pure giving back, pure helping people," said Dr. Hofmann. "It's such a simple thing helping these people that have no other resources."
Dr. Hofmann launched Operation Walk Utah with proceeds from a cookbook his mother authored to support the team's first mission. Part of a team that founded an implant company, he tithed 10% of sales of hip and knee joints to Operation Walk, has helped train surgeons from El Salvador to conduct the implant procedures there, and constructed a storage facility in El Salvador to house the medical equipment needed to perform the operations. Additionally, Dr. Hofmann and colleagues at Salt Lake Regional Medical Center also perform hip and knee implant procedures for members of the local community annually, aiding many.
"The entire Salt Lake Regional Medical Center community is proud to support Operation Walk Utah, Dr. Hofmann and all the members of the medical team he works with," said Dale Johns, president of the medical center. "The compassionate, expert care they provide changes their patients' lives and lifts the spirits of all who are involved in this endeavor."
Every year during the first week of December, patients in Utah receive care at Salt Lake Regional Medical Center for knee or hip joint replacements through Operation Walk USA. The hospital community has fully embraced the cause with many staff donating items such as clothing and toys to ship to El Salvador to aid patients there when they undergo their surgery by the Operation Walk Utah team.
When Operation Walk Utah started, conditions were such that the medical teams only had two units of blood available for approximately 70 procedures. Patient's family members each had to donate a pint of blood before the patient's operation. Today, the need for transfusions is diminished as the orthopedists have learned that if they place the patient's leg at a 90-degree angle on a cardboard box for an hour after a knee operation, it prevents blood loss. While about 75 individuals are assessed, those who can benefit most from the surgery receive the procedures with implants donated by Zimmer Biomed and Total Joint Orthopedics. The volunteer team pays other costs out of pocket. Efficiencies they have developed by doing surgery in El Salvador have been brought back to the U.S., too.
"When you're doing fifty to seventy-five surgeries in four or five days, you have to be very efficient," said Dr. Hofmann. "Our instrumentation has gotten simpler, we have found more cost-effective ways to do things. We're bringing this back to the Steward system. We've been able to save thousands of dollars per case because we use the same principles used when we go to El Salvador."
Dr. Hofmann and medical teams are preparing to travel to El Salvador in April for their next mission. The award he will receive from the AAHKS is not for him alone, he said.
"I represent the group. I'm very proud to be recognized and I'm proud of Operation Walk Utah to be recognized," he said. "It's a team sport. Not one person could do this."
About Steward Health Care Utah 
In Utah, Steward Health Care operates five hospitals, Davis Hospital and Medical Center, Jordan Valley Medical Center, Jordan Valley Medical Center - West Valley Campus, Mountain Point Medical Center and Salt Lake Regional Medical Center. The Utah Steward network also includes the Davis Hospital Weber Campus Emergency Department, and the Steward Urgent & Primary Care centers in Taylorsville and Woods Cross. Steward Medical Group Utah employs primary and specialty care physicians and surgeons with locations all along the Wasatch Front. The managed care and health insurance services include Steward Health Care Network and Steward Health Choice Utah.  Steward Health Care is the exclusive health care partner of REAL Salt Lake soccer clubs and Utah Grizzlies hockey. 
About Steward Health Care
Steward Health Care is the largest private, for profit physician led healthcare network in the United States. Headquartered in Dallas, Texas, Steward operates 37 hospitals in the United States and the country of Malta that regularly receive top awards for quality and safety. The company employs approximately 42,000 health care professionals. The Steward network includes multiple urgent care centers and skilled nursing facilities, substantial behavioral health services, over 7,900 beds under management, and approximately 2.2 million full risk covered lives through the company's managed care and health insurance services.
The Steward Health Care Network includes five thousand physicians across 800 communities who help to provide more than 12 million patient encounters per year. Steward Medical Group, the company's employed physician group, provides more than six million patient encounters per year. The Steward Hospital Group operates hospitals in Malta and nine states across the U.S., including Arizona, Arkansas, Florida, Louisiana, Massachusetts, Ohio, Pennsylvania, Texas, and Utah. For more information, visit www.steward.org.