Operation Walk Utah Provides Total Hip & Knee Replacements to Four Local Patients
As a way to give back to the community every year, Operation Walk Utah selects patients from Utah and surrounding areas to receive joint replacement surgeries at no-cost to the patient
SALT LAKE CITY—DECEMBER 15, 2020—For the tenth consecutive year, Operation Walk Utah, in partnership with the Hofmann Arthritis Institute, performed four total hip and knee replacement surgeries at no-cost to the uninsured or underinsured patients. The patients were selected by the Operation Walk Utah committee based on the severity of their conditions and the immediate need for surgical treatment.
Aaron Hofmann, M.D., board-certified orthopedic surgeon and director of the Center for Precision Joint Replacement at Salt Lake Regional Medical Center and the Hofmann Arthritis Institute, along with Bryan Bonner, M.D., and Trevor Magee, M.D. performed the surgeries this month. All four of the selected Operation Walk Utah patients received surgical procedures, hospitalization, and pre- and post-operative care. The surgical procedures were provided by Hofmann Arthritis Institute and took place at Salt Lake Regional Medical Center. All joint replacement implants were donated by Total Joint Orthopedics, a Salt Lake City, Utah based orthopedic manufacturer. Funds from the Eccles foundation also help support the work.
"This opportunity to provide life-changing surgeries to active members of our community who otherwise couldn't obtain them is both humbling and rewarding, these patients can get back to work and enjoy family and activities again" said Dr. Hofmann. "We always get back more than we give with the Operation Walk program and the patients we serve." said Dr. Bonner.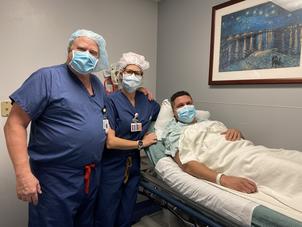 Marcu Lopes, a maintenance worker with a local hotel group in Salt Lake City, has a story that's all too familiar to millions of uninsured Americans. But thanks to Operation Walk Utah, Lopes' story has a happy ending.
Suffering from hip pain for ten years, Lopes was always in pain. His job is very physical from lifting and bending to a lot of walking, he could not find any relief from the bone on bone pain he felt each day.
That's when he found out about Operation Walk Utah, a private not-for-profit volunteer medical services organization founded by Dr. Aaron Hofmann. Every year, Dr. Hofmann and his team lead a trip to El Salvador, where hundreds of free surgical treatments have been performed to date. Dr. Hofmann and other surgeons with the organization also offer no-cost joint replacement procedures here at home in Salt Lake City.
"I am so thankful to Dr. Hofmann and his team that Operation Walk came into my life when I needed this help," says Lopes, who is one of four patients who received free joint replacement surgery this month at Salt Lake Regional Medical Center. "Just being able to walk without pain, work and play sports again means so much to me and my family."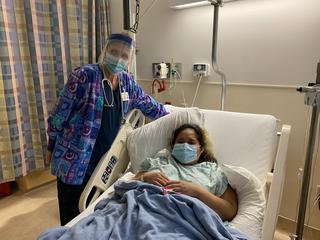 Dioseline Santiago, who received a right hip replacement through the program, says, "It's been a Christmas miracle for me. I have wanted my hip fixed for so long. Years of kids teasing me and being told I would never walk normal again made me feel sad. I am beyond thankful that I can now walk again without a limp. With this new hip I am excited to get back to cleaning houses with my mom and the activities I have been missing." said Santiago
"Operation Walk is an incredible opportunity for medical professionals to come together with the sole focus of helping patients in need of a hip or knee replacement," said Dr. Magee. "We all feel so lucky to be a part of this organization, and the reward of seeing patients walk without pain, the gift of mobility is the best gift-anyone could ask for during the holiday season."
About Operation Walk Utah
Operation Walk Utah is a private, not-for-profit volunteer medical service chapter of the national organization, Operation Walk USA. All chapters of Operation Walk USA provide free surgical treatment to patients with debilitating arthritis or other bone and joint conditions in developing countries and the United States. Operation Walk USA has established an international presence and continues to grow. All medical supplies and equipment are provided through donations, and the entire medical team on staff volunteers donate their time. For more information, visit operationwalkutah.org.
About the Center for Precision Joint Replacement at Salt Lake Regional
The Center for Precision Joint Replacement at Salt Lake Regional provides minimally invasive, highly advanced joint replacement surgeries including robotic assisted technology to patients with arthritis and other joint conditions. For more information about the Center,  https://www.saltlakeregional.org/Services/Orthopedics.
About the Hofmann Arthritis Institute
The Hofmann Arthritis Institute provides advanced non-surgical and surgical treatment options to patients with arthritis. The medical team combines the latest surgical and nonsurgical techniques and technology with specialized surgeons to bring about the best possible clinical outcomes. For more information about Hofmann Arthritis Institute, call 801-35-JOINT.
About Steward Health Care
Steward Health Care is the largest private, for-profit health care network in the United States. The company is owned and led by a management team of Steward physicians.
Headquartered in Dallas, Texas, Steward employs more than 37,000 health care professionals and operates 36 hospitals across the United States and in the country of Malta which regularly receive awards for quality and safety. The Steward network includes multiple urgent care centers and skilled nursing facilities, substantial behavioral health services, more than 7,000 beds under management, and approximately 2.2 million full risk covered lives through the company's managed care and health insurance services.
The Steward Health Care Network includes more than 5,000 physicians across 800 communities who help to provide more than 12 million patient encounters annually. Steward Medical Group, the company's employed physician group, provides more than six million patient encounters per year. The Steward Hospital Group operates hospitals in Malta and nine states across the U.S., including Arizona, Arkansas, Florida, Louisiana, Massachusetts, Ohio, Pennsylvania, Texas, and Utah. For more information, visit www.steward.org.