Statement by Salt Lake Regional Medical Center Salt Lake Regional Medical Center to administer the COVID-19 vaccine to Health Care Personnel
Salt Lake Regional Medical Center is in receipt of the COVID-19 vaccine and will begin to vaccinate our frontline workers who are directly involved in the care of COVID-19 patients on Thursday, December 17 at 2:30 pm. Vaccinations will be administered in a phased approach according to criteria outlined by the Centers for Disease Control and Prevention (CDC) and the Advisory Committee on Immunization Practices (ACIP).  
The shipment was received at our facility and is stored in an ultra-cold and secured storage unit. Our team has developed a proprietary application to pre-screen employees, schedule employees for COVID vaccinations, and set reminders for the administration of the second dose of the vaccine. This will allow us to administer vaccines to our health care personnel faster, while simultaneously maintaining best practices for social distancing.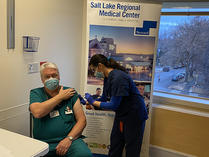 The first employee to receive the COVID vaccine at SLRMC will be R. Kim Murdock, RPT. The respiratory therapy team are the unsung healers of this pandemic.
Kim has worked at Salt Lake Regional Medical Center for 39 years. He has treated hundreds of patients, however the COVID patient is different.
"It is hard to see patients each day so sick. I am committed to helping each patient to breath better in some way as they fight off the virus." states Murdock
"This year has been extremely challenging. It has been both emotionally and physically draining to myself and all the frontline healthcare workers. I am very hopeful. To see a vaccine so quickly is a miraculous effort in the fight to end this pandemic."
"We are excited the day has finally arrived. We can now begin vaccinating our frontline workers against the aggressive spread of this virus. This is an amazing opportunity that allows us to care for those who are spending countless hours caring for others " states Bryan McKinley, President, Salt Lake Regional Medical Center.
We are here to help facilitate this initial Covid-19 vaccination process for healthcare workers as instructed by the CDC, FDA and other government agencies. Please reach out to us with any questions. 
Media Requests:
For more information, email media requests to [email protected] or call Tammy at 801-350-4214.