From the Beehive State to Boston in a Run for Redemption

Steward Medical Group Utah's Lauren Humbert, PA, aims to run a sub-three-hour marathon.

More than a decade after completing her first Boston Marathon in four hours and 15 minutes - the slowest race of her career - Steward Medical Group's Lauren Humbert, an orthopedic physician assistant in Salt Lake City, Utah, is returning to run for redemption. Healthy and in peak condition, she is eyeing completing the 26.2 mile course in fewer than three hours.
In 2011 Lauren crossed the finish line and teary-eyed, hobbled over to her awaiting father and collapsed into his arms. "He was nothing but smiles and so proud of me despite the fact that I was so disappointed in myself," she said. "This year I'm looking forward to rounding that corner and running into his arms and crying tears of joy."
Lauren, who is based at the Steward Center for Orthopedics and Sports Medicine at Salt Lake Regional Medical Center, began running at age 10 when her father, David Goff, was training for his first marathon. She's never looked back, running throughout high school and college, and in multiple marathons. Her personal best is a 2:55:07 which she attained in 2019 in the Ogden Marathon in Utah, placing fourth overall in the women's race, a year after welcoming her son.
As a runner who has sustained past injury and battled anemia, Lauren is able to relate exceptionally well to the patients who are in her care at the orthopedic clinic. A knee injury in high school required an arthroscopy, sidelining her for track season. Following her 2011 Boston Marathon, she needed iron infusions to address anemia, a condition she was not aware she had while training for and running the race. The experiences have instilled a deep empathy within her for her patients.
"It's helped me give a lot of people hope in what they can do in the future, especially that population of high school kids who get injured and have to miss a season," she said. "I went through that too…it helps you have that bigger perspective on things and helps me better understand them and better take care of them."
Lauren was primed to run Boston in 2020, but the COVID-19 pandemic delayed the annual April event that draws about 30,000 runners from around the world. On the day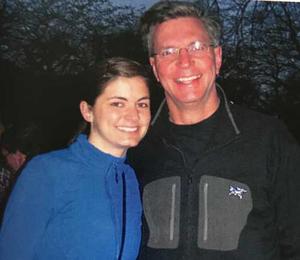 in April that she was supposed to race, the orthopedic clinic created its own version of the Boston Marathon finish line, with colleagues holding a blue and yellow ribbon for her to run through at the end of a hallway. Dr. Andrew Cooper, a sports medicine specialist at the clinic, had previously run Boston, and to help make Lauren's experience as real as possible, he brought in a finisher's medal to award to her, a mylar thermal blanket, and a box of Dunkin Donuts doughnuts to add to the authenticity.
"It was really sweet of the whole office to get in on it," Lauren said.
In September of 2020, she ran a virtual Boston Marathon in Utah. In the way COVID-19 fostered kindness, a group of people who were mostly strangers and who were out supporting another virtual marathoner, held up their finish line for her to cross as she completed her virtual race. 
Given the dejection she experienced after the pandemic shut down the in-person Boston Marathon in 2020, Lauren opted to not sign up for the 2021 race, uncertain that it would take place. Heading into the 126th Boston Marathon, she began training four months ago, logging hundreds of miles in her Hoka running shoes. Although she prefers running outdoors, she broke down and bought a treadmill to aid in her training, balancing her schedule with that of her young son.
"A lot of my training has wound up being on a treadmill in the early hours of the morning," she said. "I get up extra early to be sure I get my run in before he wakes up. It's added a bit more difficulty than training in other years."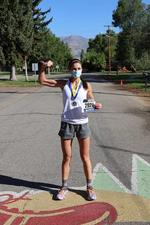 One advantage Lauren brings to Boston is that she typically trains at an elevation of about 4,200 feet, given Utah's hilly and mountainous terrain. That means that Heartbreak Hill at Mile 21, which is a half-mile stretch with a 3.3% gradient, is not as imposing a challenge to her as it may be for others. She easily ascended it in 2011 and expects to do so again, barring overt humidity on Marathon Monday.
With her goal of completing Boston in fewer than three hours and knowing her father will be waiting for her 26.2 miles from the start, Lauren is set to head east and run the race she knows she can, drawing on her years of experience and training. "I've learned a lot about myself and what I can do and what is important for me to feel my best and be the best version of myself and what I can be," she said.