SALT LAKE REGIONAL MEDICAL CENTER CONCLUDES SUMMER OF COMMUNITY OUTREACH
SLRMC's Medical Outreach Team Provided On-Site First Aid During Summer Festivals, Serving Thousands of Salt Lake Residents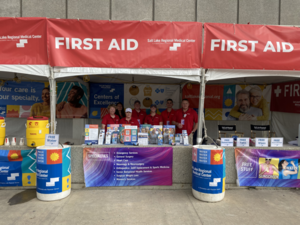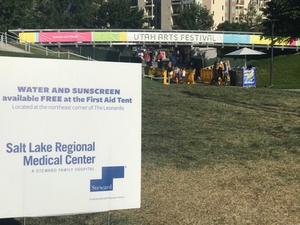 Additional Images of the SLRMC Team at Festivals Available Can be Found HERE
Salt Lake City, UT – This month, Salt Lake Regional Medical Center, a Steward Family Hospital, completed its community outreach efforts as a First Aid Sponsor at summer festivals in Salt Lake City. Throughout the summer months, SLRMC provided first aid on-site at events like the Utah Arts Festival, Utah Blues Festival, Country Fan Fest, and Avenues Street Fair and served over 75,000-plus Salt Lake residents. The SLRMC team was responsible for keeping festival-goers safe and attended to injuries including heat strokes, dehydration, cuts and sprains and elevation sickness.
SLRMC has partnered with festivals for years, providing high-quality first aid and care for community members and guests in attendance. This year, the SLRMC team kicked off its work at the Utah Blues Festival (June 10-11) and the Utah Arts Festival (June 23-26) and later participated in the Country Fan Fest (July 27-30). It concluded its work earlier this month at the Avenues Street Fair on September 10.
"We're proud to be able to serve our community at these festivals as people enjoy all the arts and culture that Salt Lake has to offer. We're grateful to our medical outreach team for all their efforts in taking care of festival-goers and hope to continue these fruitful partnerships for many years to come," said Bryan McKinley, President of SLRMC.
About Steward Health Care System: 
Nearly a decade ago, Steward Health Care System emerged as a different kind of health care company designed to usher in a new era of wellness. One that provides our patients better, more proactive care at a sustainable cost, our providers unrivaled coordination of care, and our communities greater prosperity and stability.
As the country's largest physician-led, tax paying, integrated health care system, our doctors can be certain that we share their interests and those of their patients. Together we are on a mission to revolutionize the way health care is delivered - creating healthier lives, thriving communities and a better world. 
Steward is among the nation's largest and most successful accountable care organizations (ACO), with more than 5,500 providers and 43,000 health care professionals who care for 12.3 million patients a year through a closely integrated network of hospitals, multispecialty medical groups, urgent care centers, skilled nursing facilities and behavioral health centers.  
Based in Dallas, Steward currently operates 41 hospitals across Arizona, Arkansas, Florida, Louisiana, Massachusetts, Ohio, Pennsylvania, Texas and Utah.