Cardiology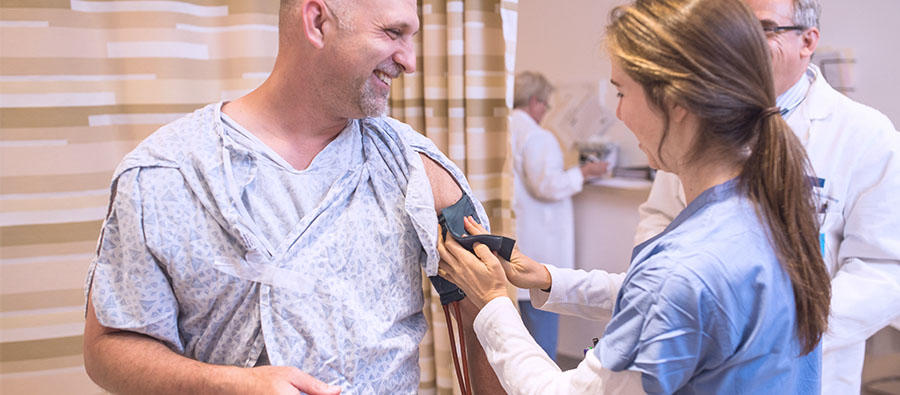 We are here to help you find what you need.
Did you know that at least one out of every three deaths in the United States is caused by heart disease and stroke? Did you also know that more than 200,000 of those deaths could have been prevented? A
Most Trusted Cardiology Services in Salt Lake City UT
 
The heart care program at Salt Lake Regional Medical Center incorporates healthcare leaders and professionals from diverse backgrounds with the aim of improving patients' heart and overall health. Services, which are available 24/7, include:
Chest pain response
Cardiac Catheterization
Treatment for Arrhythmia
Diagnostic Imaging
Heart Surgery
Cardiovascular Intensive Care
What is a HeartView Scan?
The HeartView Scan is a noninvasive way to detect health problems before symptoms occur. The scan takes approximately 10 minutes and is performed on a state-of-the-art 64-slice CT scanner. This test measures the amount of atherosclerotic "plaque" in the coronary arteries. Plaque is the substance that builds within the walls of the arteries and can cause a heart attack if the arteries become blocked. Early detection is the key to treating heart disease.
Give yourself peace of mind and take an active role in your health – call about a HeartView Scan today — 800-862-9886.
WATCHMANTM: Reducing Stroke Risk Among Patients With AFib
Do you need to get off blood thinners? Meet WATCHMANTM– now available at Salt Lake Regional Medical Center.
WATCHMANTMIs An Alternative to Blood Thinners.
WATCHMANTM, the Left Atrial Appendage Closure Implant, has provided over 50,000 patients around the world with an alternative to blood thinners like warfarin.
WATCHMANTM is a one-time procedure at Salt Lake Regional Medical Center that may reduce stroke risk for a lifetime in people with AFib not caused by a heart valve problem. WATCHMANTM is a permanent implant that closes off a part of the heart where blood clots commonly form. 
In a clinical trial, 9 out of 10 people were able to stop taking warfarin just 45 days after getting WATCHMANTM. At one year, 99 out of 100 people were able to stop taking warfarin. This can lower the risk of bleeding associated with the long-term use of blood thinners like warfarin. 
Taking Warfarin for AFib?
You may have heard that atrial fibrillation increases your risk of having a stroke. In fact, a person with AFib is 5 times more likely, on average, to suffer a stroke than someone with a regular heartbeat. 
That's because AFib causes your heart to beat irregularly, which affects its ability to pump blood normally. And when the heart doesn't pump as it should, blood can collect and form clots. If a clot escapes, it can cut off the blood supply to the brain—causing a stroke.
    WATCHMANTM fits into a part of your heart called the left atrial appendage (LAA). 
    90% of stroke-causing blood clots that come from the heart are formed in the LAA.
    WATCHMANTM permanently closes off this part of your heart to keep those blood clots from escaping. 
The WATCHMANTM Implant is about the size of a quarter, and it doesn't require open-heart surgery. Here's what happens during the procedure. 
To implant WATCHMANTM, your doctor makes a small cut in your upper leg and inserts a narrow tube. 
Your doctor then guides WATCHMANTM through the tube, into your left atrial appendage (LAA). 
The procedure is done under general anesthesia and typically takes about an hour. People who get the WATCHMANTM Implant usually stay in the hospital overnight and go home the next day. 
After the procedure, you'll take warfarin until your LAA is permanently closed off—usually just 45 days. 
During that time, heart tissue grows over the WATCHMANTM Implant to form a barrier against blood clots.
Is WATCHMANTM Safe?
WATCHMANTM has a proven record of safety. Worldwide, more than 50,000 people have received the WATCHMANTM Implant. WATCHMANTM has been clinically studied for more than 10 years in the United States. It's the only implant of its kind approved by the FDA. 
Is WATCHMANTM Right for Me?
You may be a candidate for WATCHMANTM if you can answer yes to the following questions: 
Do you have atrial fibrillation not caused by a heart valve problem? 
Has your doctor recommended that you take a blood thinner for your AFib? 
Can you take warfarin but need an alternative to long-term blood thinners for one of the reasons below? 
 
You have a history of serious bleeding while taking blood thinners.
You have a lifestyle, occupation, or condition that puts you at risk for serious bleeding.
You're taking warfarin and having trouble with your treatment plan, and a different type of blood thinner isn't an option for you.
If you think this describes you, then talk to your cardiologist about WATCHMANTM. Get a customized guide that can help you ask the right questions at WATCHMAN.com/guide.
Cardiologists at Salt Lake Regional Medical Center are currently accepting referrals for the WATCHMAN procedure. Choose from our team members listed below and get started today.
Diagnostic Imaging
If your primary care provider has detected a potential problem with your heart or blood vessels, then he or she may refer you to a cardiologist at Salt Lake Regional Medical Center. During an initial evaluation, your cardiologist may ask about your medical history, lifestyle, and other information. Diagnostic tests could include:
64-slice CT scanner
Arterial color flow Doppler
Arteriography
Cardiac Catheterization
Chest and abdominal x-rays
Echocardiography (heart, neck, abdomen)
Transesophageal Echocardiogram
Electrocardiogram (ECG / EKG)
Intracardiac/intravascular ultrasound
Lab-blood tests
MRI (Magnetic Resonance Imaging)
Nuclear Cardiology
Pacemaker and Defibrillator Checkup
Stress / Treadmill Testing
24-hour Holter and Event Monitoring
Interventional Cardiology
Interventional cardiology is a branch of medicine that uses a minimally invasive catheter-based approach for treating diseases of the heart and vascular system. For many patients, an interventional procedure is preferable over an open heart procedure because there are usually fewer risks and complications, less blood loss, and a faster recovery – with results that are just as good as those that open heart surgery has to offer.
The following interventional procedures, among others, are performed in Salt Lake Regional Medical Center's two cath labs:
AAA repairs
Balloon Angioplasty and Stent Placement
Coronary Artery Bypass Surgery
Electrophysiological Investigations
Heart Valve Surgery
Pacemaker and ICD implantation
Radiofrequency Ablation
Do I Need Vein Care? 
Have you started to notice bulging, twisted, or discolored veins in your legs? Maybe your skin has a shiny red color or feels hot to the touch. Many people write off these signs and symptoms of varicose veins as "just getting older." However, these painful vein problems can be quite serious. While varicose veins might be the most visible kind of peripheral venous health problem, they're only one of many potentially life-threatening conditions.
Peripheral Arterial Disease
Varicose Veins
Chronic Venous Insufficiency (CVI)
Diagnosing Vein Problems
Ankle Brachial Index (ABI) Test: During an ABI test, blood pressure cuffs are placed on the arms and ankle. If the ankle blood pressure reading is significantly lower than the arm blood pressure reading, then your ABI results may indicate the presence of PAD.
Vascular Ultrasound: A vascular ultrasound uses a small, handheld transducer that bounces sound waves off the veins. These sound waves are recorded and then used to create an image of the blood vessel, revealing blockages, narrowing, and other health issues. This test is completely harmless and painless.
Angiography: During the procedure, a special contrast dye is injected into an artery – usually the femoral artery in the groin. X-ray imaging is used to trace the dye as it moves through your body's blood vessels. (In some cases, a magnetic resonance angiogram or computed tomography angiogram may be used instead.)
What is a Leg Screening?
Don't Let Tired, Painful Legs 
Slow You Down
If you suffer from leg pain, you may be at risk for PAD (Peripheral Arterial Disease). A quick leg screening using an ankle-brachial index (ABI) to compare blood pressure readings in the ankles with those in the arms can help identify possible blood flow issues and diagnose this painful condition.
Call 1-866-431-WELL (9355) to schedule yours today at one of four convenient locations along the Wasatch Front.
This screening does not require a physician's order. Cost is $30 and no insurance will be filed.
Who's at risk? Want to learn more about the screening?
About the Scan
The ABI compares blood pressure in your ankle to blood pressure in your arm. This test shows how well blood is flowing in your limbs.
A normal ABI result is 1.0 or greater (with a range of 0.90 to 1.30). The test takes about 10 to 15 minutes to measure both arms and both ankles. This test may be done yearly to see whether P.A.D. is getting worse.
Diagnosis of PAD is important because it will show if you are at higher risk for coronary heart disease, heart attack, stroke, and transient ischemic attack
Are you at risk?
PAD (Peripheral Arterial Disease) SYMPTOMS INCLUDE:
A burning or aching pain in the feet and toes while resting, especially at night while lying flat
Intermittent claudication, or painful cramping in the leg or hip that occurs when walking or exercising and typically disappears with rest
Numbness, tingling and weakness in the lower legs and feet
Sores or wounds on the toes, feet, or legs that heal slowly, poorly, or not at all
A pale or bluish color to the skin
Poor nail growth on the toes and decreased hair growth on the legs
RISK FACTORS INCLUDE:
Smoking
Diabetes
Age 50 or older
Age 50 or younger with diabetes and atherosclerosis symptoms
High blood pressure (hypertension)
High cholesterol (hyperlipidemia)
Sedentary lifestyle
Personal or family history of heart or vascular disease.
To schedule your ABI Leg Screen, call 1-866-431-9355.
This screening does not require a physician's order. Cost is $30 and no insurance will be filed.
How WATCHMAN Works
    WATCHMAN fits into a part of your heart called the left atrial appendage (LAA). 
    90% of stroke-causing blood clots that come from the heart are formed in the LAA.
    WATCHMAN permanently closes off this part of your heart to keep those blood clots from escaping. 
Conditions
Adult Congenital Heart Disease
Aortic Aneurysms
Arrhythmia
Blocked Arteries (Heart, Neck & Legs)
Cardiomyopathy
Carotid Artery Disease / Stroke
Coronary Artery Disease
Heart Attack
Heart Failure
Heart Valve Disease
Hypertension
Peripheral Artery Disease (PAD)
Pulmonary Hypertension
Treatments
Drug Therapy
Open / Laparoscopic Surgery
Interventional Cardiology
AAA Repairs
Balloon Angioplasty and Stent Placement
Cardiac Rehabilitation
Coronary Artery Bypass Grafting (CABG)
Minimally Invasive Coronary Artery Bypass (MIDCAB)
Heart Valve Surgery
Pacemaker and ICD Implantation
Radiofrequency Ablation
Vascular Procedures
Resources
Man Up & Become Heart Smart

"Many men think their symptoms are a sign of something else, like heartburn, so they do nothing," says Peter Ofman, MD, a cardiologist at Nashoba Valley Medical Center. "Even a man who already had a prior heart attack may not recognize his symptoms, as each attack can be dramatically different."

Atrial Fibrillation: When an Irregular Heart Rhythm Should Cause Concern

As children, many of us liked to play doctor and listen to the sound of someone's heart − the steady bump, bump, bump sound was fascinating for those curious minds. But what happens when that steady heart rhythm becomes erratic? For some people, they may have atrial fibrillation (AFib), which affects at least 2.7 million Americans.

Is life without blood thinners possible?

Many people take blood thinners to reduce the risk of stroke related to AFib, but did you know there is an alternative? IT'S CALLED WATCHMAN.