Physical Therapy, Occupational Therapy, Speech Therapy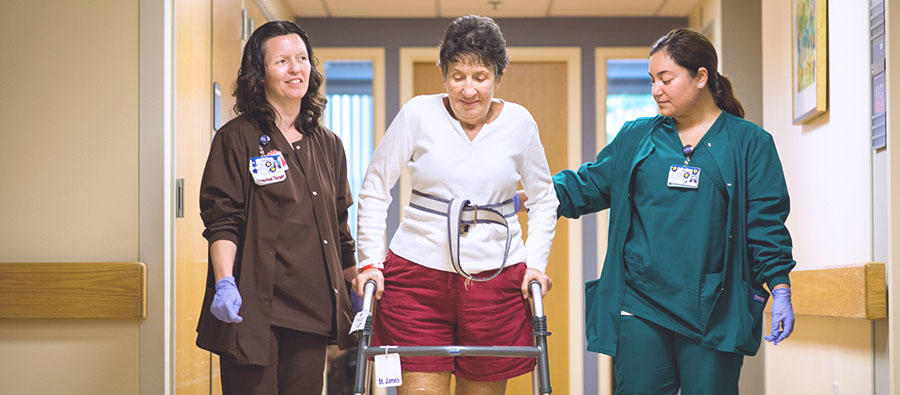 We are here to help you find what you need.
At Salt Lake Regional, we have provided comprehensive outpatient physical therapy and rehabilitation services to the Salt Lake City community for more than 35 years.
Therapy and Rehab Programs Offered at Salt Lake Regional
Inpatient Rehabilitation
We provide our services in a comfortable, medically-supervised setting that includes 16 private rooms with spectacular views and two therapy gyms. Along with physician and nurse coverage 24-hours every day, a highly trained team of health care professionals provides the following inpatient services:
Augmentative communication
Cognitive (brain) function rehabilitation
Clinical and neuro-psychological evaluation and treatment
Nutritional counseling and consultation
Occupational therapy
Physical therapy
Prosthetics and orthotics
Recreational therapy
Speech therapy
Swallowing evaluation and retraining
Physical Therapy
Aquatic Therapy
Our aquatic pool is specially designed for therapeutic purposes. Our 18 ft. x 24 ft. pool is heated between 92-96 degrees — enabling the water's buoyancy to reduce the stress on joints and ease discomfort during exercise. This helps you realize improved physical function, muscle tone, balance and cardiovascular performance. The pool also features a flat floor divided into depths of 3 ft., 4 ft. and 5 ft., so patients of varying heights can exercise comfortably. It also has a hydraulic lift to provide easy access to individuals of all abilities.
Neurological Therapy
Following a thorough evaluation, our therapists work with you on a comprehensive, individualized treatment plan that may include a variety of occupational, physical, speech, cognitive, neuropsychological and other therapies. You'll receive the utmost respect and care on your journey to regaining as much language, memory, problem solving, cognitive functions and physical mobility as possible.
Orthopedic Therapy
At Salt Lake Regional, our physical therapy team has extensive experience working with patients recovering from a wide variety of orthopedic injuries and surgeries. Collaborating closely with your orthopedic physician or surgeon, we use the latest treatment techniques to reduce pain, facilitate a smooth recovery and enable you to get back on track as quickly as possible. 
Pelvic Floor Therapy
At Salt Lake Regional, our specially trained physical therapists effectively treat pelvic floor disorders, restore proper organ function and enhance your quality of life. This is performed through therapeutic manipulation of pelvic tissues, muscles, ligaments and joints. Physical therapy helps to increase strength, improve range of motion, release tension and relieve pain. 
Sports Therapy
Playing sports or engaging in any physical activity involves a certain amount of risk. The more physically challenging the game, sport or activity, the higher the risk of injuries. At Salt Lake Regional, we think preventing an injury is better than having to recover from one. That's why we provide educational services focused on injury prevention for your specific sport.
Senior Therapy
Depending upon your needs, we may utilize our unique aquatic environment and/or gym to help you reach your desired goal. Whether you are dealing with a chronic illness or a recent injury, we can help you recover lost function, decrease your fall risk and improve your quality of life.
Occupational Therapy
Physical and cognitive abilities required for daily living — including eating, bathing and dressing. Our therapists can assist you in developing, improving, sustaining or restoring independence if you have experienced an injury, illness or disability. This is especially valuable if you are recovering from a stroke, brain injury or orthopedic surgery.
Speech Therapy
Speech therapy can help you improve your ability to produce and understand language — including speaking, listening, reading, writing, organizing and solving problems. Speech therapy is especially helpful if your abilities are impaired due to a stroke, head injury or other type of neurological disease. In addition, speech therapy is helpful if you suffer from speech impediments (such as stuttering), hearing loss, mental disabilities or a medical condition (such as cerebral palsy).
VitalStim® Therapy System for Swallowing Disorders
When combined with swallowing exercises, the VitalStim® Therapy System is a safe and effective treatment option that is designed to help you overcome swallowing disorders (dysphagia) or difficulties by accelerating strengthening, restoring function and helping your brain remap the swallow. VitalStim uses electrical stimulation to increase strength and coordination of the swallowing muscles.
Our Team
Adam Kershaw
Physical Therapy

Kevin Lieu
Physical Therapy

Kristi Brown, PT, DPT
Physical Therapy

Mitchell Peterson
Physical Therapy

Lauri Colosimo
Physical Therapy

Ted Sexton
Physical Therapy
View Team Members
Conditions
Back and neck disorders
Balance disorders
Bone, muscle and joint injuries
Lymphedema
Pelvic floor disorders (incontinence)
Recovery from orthopedic surgery/injury
Sports-related injuries
Senior health issues
Women and men's health issues
Work-related injuries
Treatments
Neurological rehabilitation
Pilates
Physical exercise
Body mechanic training
Muscle stimulation
Neurological re-education
Mobility/gait training
Resources
Language for Learning

While starting up a new school year is a time of excitement for many, for children with speech and language disorders, it can cause anxiety and frustration from the first moment. While you may not be aware of any concerns, summer offers a great opportunity to pay close attention and watch for any warning signs in your child.

Thumbs Up for Hand Care

Each time you tie your shoes, shampoo your hair, cook a meal, tap out an email or a text message, or brush your teeth, you're using one of the most important parts of your body: your hands.